Nainital – the lake city is one of the best tourist destinations in northern India in Uttarakhand, people also called 'city of Lakes'. Get all the latest information and best attraction of Nainital with for your next or upcoming tour this hill station. In this brief write-up i have described best places to explore in and around Nainital, also hope that this short Nainital travel blog will help you to make perfect itinerary for Nainital sightseeing.
A British businessman Mr. P. Barron was founded the hill station in the year of 1842, there is also has hearsay that Nainital named derived from Naina Devi temple. The temple located on the edge on Naini Lake. Main attraction of Nainital is Naini Lake, a natural fresh water lake in heart of the township and surrounded by mountains.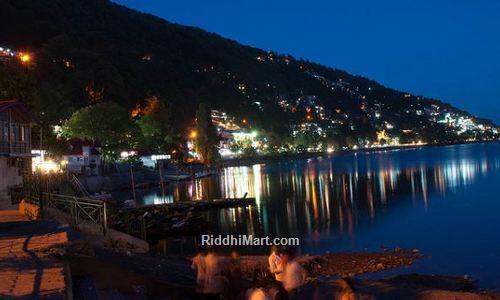 Mall Road
The mall road is main road and junction of Nainital, was constructed during British period, the road connects Nainital town which is divided by Mallital lake and Tallital lake. All major and well-known hotels, resorts, banks, ATMs, food court and travel agent offices are located beside this mall road. You will see colorful boats are floating on Naini Lake from mall, in evening entire mall road get decorated with so many lightings and panoramic view. You can ride boat in Naini lake, boat can be hired from 'Boat House Club', also someone can sit by lake side deck to enjoy the awesome surrounding mountains and beautiful lake.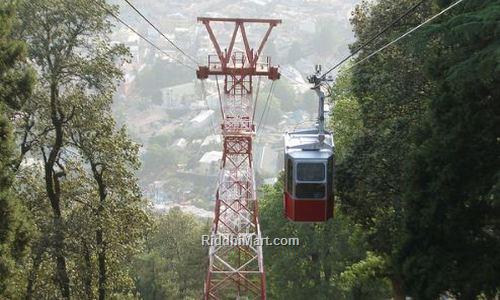 Snow View Point
The snow view point – a must visit desination when you are in Nainital, just located at two and half kilometers (2.5 kms) away from Nainital on 7500 ft. above sea level. In a clear day (Cloudless) snowcapped Nanda Devi, the second highest mountain of India can be seen from here. Snow view point can be reached from Nainital by cable car, the aerial ropeway starts from Mallital and takes around few minutes to reach view point.
Naina – China Peak
Naina peak (also known as China Peak) is highest peak of Nainital is famous for great sunrise. You can reach Naina peak by trek or by horse riding, located just 6 kms away from Mallital. If you are trekking then start as soon as possible also carry something to eat and drink.
Jim Corbett Gurney House
Gurney house was residence and family house of Jim Corbett, located in picturesque slopes of Nainital in Maliital beside Dorothy's Seat, minutes away from Naini Lake and must visit attraction of Nainital sightseeing. Now this house is private property but allows Corbett lover to visit, so many furniture, books are arranged in a very nice way in a small museum.
Nainital Zoo
Govind Ballabh Pant Zoo is a high altitude zoo in Nainital, located just one and half (1.5 kms) from bus stand, was founded in 1984 but opened for public in 1994. Here are some rare species of animals like snow leopard, Siberian tiger Himalayan black bear etc. and high altitude birds. This zoo remains open every day except Monday and any holidays from 10 AM to 4.30 PM.
Bhimtal
Bhimtal is famous for lake (Bhimtal Lake), situated just 22 kms.away from Nainital and second best lake of Uttarakhand after Naini lake. Bhimtal Lake also has an island in its center, which is an Aquarium. Different type of adventure sports are available here like mountain biking, horse riding, hand gliding etc. or you can take boating on blue crystal water of Bhimtal lake and go to Bhimeshwar temple. Also someone can enjoy sunset at Hanuman Garhi and see famous lord hanuman statue and temple.
Naukuchia Tal
Naukuchiatal means 'lake of nine corners' in Hindi, a nice small lake just located at 26 kms away from Nainital and situated on 4500 ft. above sea level. This is an ideal place for bird watching.
Ramgarh
A beautiful town in Uttarakhand located at 25 kms away from Nainital and surrounded by scenic gardens of apple, pear and many more. Ramgarh is famous for its scenic view and fruit production in entire Kumaon and Uttarakhand also called as 'Fruit Bowl of Kumaon'. Entire town get covered with full of apple, pear, peach, apricot and rhododendrons in the month of September, November. You also can see great view of so many Himalayan peaks, take a small tour to Tagore point.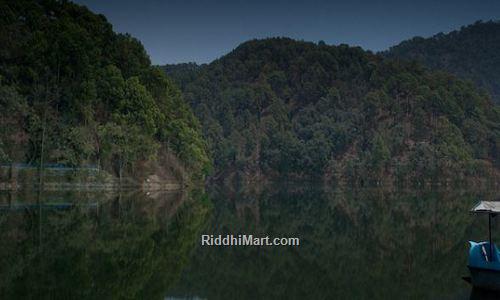 Sattal or Sat Tal
Meaning of Sattal is seven lakes in Hindi, seven interconnected fresh water lakes near Nainital, located just 23 kms away from Naini Lake on 4500 ft. above sea level. Sattal is paradise for bird and nature lover, almost 200 species of birds can be seen here including red billed blue magpie, blue-throated and brown-headed barbets, brown-capped pygmy woodpecker, fish eagles, tits, babblers, jungle owlet etc. Fishing and boating is also main attraction of Sattal. Take a short tour to Butterfly Museum in john estate, to see more than 1000 species of butterflies and insects.
Pangot
Pangot is another bird watching destination near Nainital, located at 17 kms away from Nainital through Kilbury and 50 kms away from Kathgodam – the gateway to Kumaon region. Entire town is surrounded by lush green pine, far, oak and rhododendrons. Pangot is famous for its large population of cheer pheasant and koklass pheasant, also number of species of birds are also can be seen here including eurasian jay, scimitar babbler and so many types of woodpecker.
Also Read: Hotels in Nainital near lake and Mall road

Nainital lake; Nainital zoo; snow view Nainital; Nainital tiffin top