Top 10 Offbeat Places in Sikkim You Must Visit (Part 2)
Oct 26 2016
Rumtek
Rumtek is heritage, traditional, cultural and religious center of Sikkim, located on 5085 ft above sea level, distance only 25 kms from Gangtok. Rumtek is famous for Rumtek Monastery is a Gompa also known as Rumtek Dharma Chakra Center. Current Monastery was built in 1960 after the original was destroyed in the earthquake. An old monastery situated on one and a half kilometers away at Lower Rumtek. Travelers are normally visited Rumtek as sight seen from Gangtok, I will suggest to spend a couple of days at Rumtek to feel peace of silence and understand the Buddhist culture. Rumtek has so many natural resources other than monastery.
One after another evergreen bushes on the slopes of the mountain, gold plated turret is shinning on lush green background. Take a tour to Orchidarium of forest department on the way to Rumtek, only fourteen kilometers from Gangtok. Many different species of orchids and tropical trees can be seen at Orchidarium. Visit Jawaharlal Nehru Botanical Garden just one and a half kilometer before reaching Rumtek, there are many known and unknown plants, mountain flowers and orchids. You also can a short trek to Khola Water Garden just four kilometers before Rumtek through cardamom garden. Other nearby attraction of Rumtek is Ranka Gompa and Teen Taley. Read More..
Tashiding
Tashiding situated in West Sikkim, India surrounded by valley, distance from Pelling (a well-known tourist destination in West Sikkim) is 40 K.M and distance from Yuksam (historical place of Sikkim) is 16 K.M. The main attraction of this village is Tashiding Monastery, surrounded by beautiful orange and cinnamon (darchini) garden; magnificent view of snowcapped Mt. Kanchenjunga is visible from Monastery campus.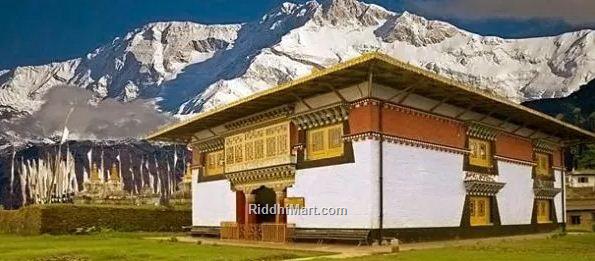 The main attraction of this Monastery is 'The Holly Water', as per Tibetan calendar 14th and 15th of first months, this Holly Water are given to devotees and pilgrims. Countless praying flags and flying sound of these praying flags are great; you can visit Rimbi Water Falls & Kanchenjunga Falls while traveling to Tashiding from Pelling. Yes, newly built water world at the bank of River Rangit and River Ratong is also good option for boating and rafting while you are in Tashiding. Read More..
Uttarey
The last village of West Sikkim district is Uttarey or Uttarey, a small and quiet village surrounded by high mountains, situated on 7600ft. above sea level. A trekking route goes to Sandakphu via Chia Bhanjyang, Phuktedara, Singalila top and Phalut. Chiyabhanjan is situated on Ino-Nepal border and a small gateway to Nepal for locals. Anyone can enter to west Bengal after crossing Singalila Top. Uttarey is base camp for so many trekking routes because, another trekking route goes to Jongri-Gochela pass via Hanshpokhri, Laxmipokhri. If you are not trekker, just want to spend few days with nature and silence then green valley of Uttarey is perfect destination. This memorizing green valley with different birds and flowers all ways welcomes you.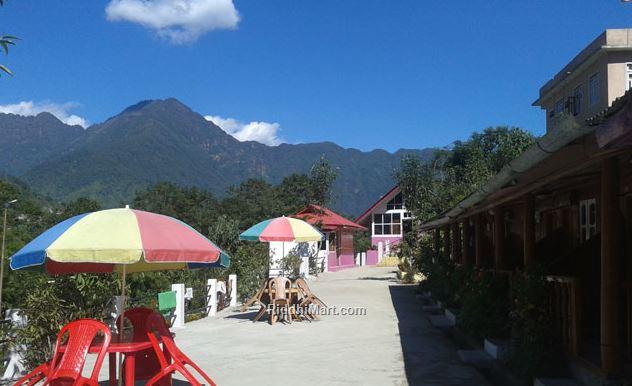 The main point or center of this village is Uttarey Bazar, now few cars are going up to Laminipokhri, situated on 8200 ft. above sea level. You can enjoy great view of so many peaks at a glance of Nathula Range, Singalila Range, Kanchenjunga, Pandim and many more. Your next destination is Kagyud Monastery, situated at top of Uttarey Bazar, enjoy a nice landscape of Uttarey from Monastery yard, don't forgot to take your Camera, photo taken from this Monastery can be your profile picture or you wallpaper. Then take a short trip to Manghim and trout breeding center, if you have enough strengths then trek around 2 hrs. for Menbas (Manbas) Water Fall. This fall surrounded by dense forest and a hidden gem under dense forest, there are chances of seeing Red Pandas or Himalayan Black Beer. Read More..
Yakten
The Yaakten Village is located at a distance of 10 kilometers uphill drive from Pakyong, East Sikkim which is also the site of upcoming Greenfield airport in Sikkim. The first ever Yaakten Bojeytaar village ecotourism festival held back in the month of February brought about new changes in the tourism perspective of this place. The festival was indeed a grand success after which the Yaakten village received an overwhelming ratio of domestic tourist inflow which is a record breaking event that a new village tourism destination has ever received. There are at present 8 home stay facilities at the Yaakten village with modern attached washroom. The Yaakten village commands a panoramic view of the Mount Khangchendzonga and its allied peaks on a clear sunny day which is just breathtaking. Situated away from the hustle and bustle of city life the Yaakten village will indeed give to the discerning travelers a feeling of peace and solitude.
Homestay owner will welcome you with a cup of tea along with local food 'Sel Roti', a traditional homemade food in Nepali communities. A must have cuisine made by Rice flour, little sweet, edible oil and tea leaf extract with lots of warm hospitality. The lunch is also mouthwatering; especially you will never forget taste of coriander and mint chutney. Shining light of Gangtok city and Zuluk can be visible from your room at night sky. Take an early morning rise and walk for few minutes through the dense forest from village to witness a memorable sunrise, a wiz game of sunlight on snow capped peaks of Mt. Kanchenjunga, Mt. Kumbhakarna, and Mt. Kabru. Read More..
Yuksom
Historical and oldest establishment of Sikkim is Yuksom, distance from Siliguri (gateway of Eastern Himalaya) 145 K.M. via NH31A and 148 K.M via Hill Cart road. Yuksom situated on 1,780 meter above sea level and distance from Pelling (Most preferred tourist destination in West Sikkim) is only 36 K.M.
Yuksom is most attractive historical place along with best trekking routes and natural beauty. The first Chogyal of Sikkim Phuntsong Namgyal established capital in Yuksom in 1641 AD. The crowing place of King Namgyal can be visited on foot after reaching in Yuksom, the entire area surrounded by low railing. Archaeology department, Gov. of India is undertaking this place.
The first and oldest monastery of Sikkim, Dubdi monastery or Yuksom monastery situated here, this is very religious and holy place for locals. You need to trek 2 K.M. stoned way surrounded by deep jungle to Monastery from main road of Yuksom, also Phamrong waterfalls can be visited on your foot from Monastery. Most of the trekking routes like Dzongri, Goechala, Bakhim and Kanchenjunga national park trek starts from Yuksom, and Yuksom attracts number of foreign tourist each year. The unusual view of the road to Yuksom from Pelling, after crossing Kanchenjunga waterfall is fantastic and scenic. Read More..
Tags:
Sikkim Tour from Kolkata, Sikkim offbeat tours, para alojamiento familiar Sikkim, sikkim chez l'habi
---