Best Village Destinations and Homestay Near Darjeeling
Nov 17 2016
1.
Pokhriabong
Darjeeling has a special attraction among travelers from all around the world. Today am going to discuss about another spiffy tourist destination nearby Darjeeling and very near of Lepchajagat, which is Pokhriabong. A small hamlet in the Darjeeling district of the state of West Bengal, distance from Darjeeling town is only around 30 K.M. Pokhriabong situated on the just middle of the road from Sukhiapokhri to Nagri-Dhajia. There is a good market in Sukiapokhri for local people. Many types of cars and buses are available from here to go to Mirik and Ghoom and Batasia loop. The entire area is surrounded by lush green tea gardens.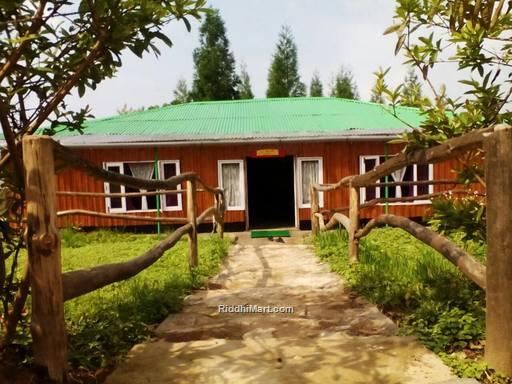 Pokhriabong is a small area with Nepali population, most of them are Gorkhas. Nepali is the Local Language but they are very much efficient with Hindi & Bengali also. Pokhriabong area also known as paradise for Bird Watcher, different types of Himalayan birds are common here including pheasants, flycatchers, barbets, sunbirds, treepies etc. Ghum railway station is an attraction of this place, also anyone can go to nearby areas like Mirik, Kurseong in a day trip.
Pokhriabong Homestay
Dilpali Homestay cum Farmhouse is best accommodation in Pokhriabong. This homestay situates at Turzum Tea Garden and surrounded by lush green. The homestay has 2 double bedrooms with huge attached bathrooms equipped with geysers and 2 single bedrooms with two beds in each room attached with huge bathrooms fitted with geysers. All the four rooms have individual d2h televisions. In the centre it has a big Hall with fireplace. We serve local Gurkha cuisine prepared from local organic vegetables and local chicken. Pure Darjeeling Organic Tea shall be served as bed tea. The charge for bed tea, breakfast, lunch and dinner shall be Rs.600/- per day per person and the room charge shall be Rs. 1,450/- per night. Four families can be accommodated at a time. We also provide transport vehicle at market rate for pickup, drops and side-seeing.
2. Ramdhura
Ramdhura is a small village in between border of West Bengal and Sikkim, famous for its flowers and orchids. The colorful village located at around 5,500 ft. above sea level. Each of the villagers has flower nursery, they cultivate flowers and orchids for commercial purpose. Fascinating view of the Teesta River and valley is visible from Ramdhura village, also in a cloudless day Mt. Kanchenjunga can be seen from here. The village Ramdhura centrally located between few well known and picturesque tourist destinations like 'Echey forest' just located on uphill of this village. Echey Gaon located just 2 kms away from Ramdhura.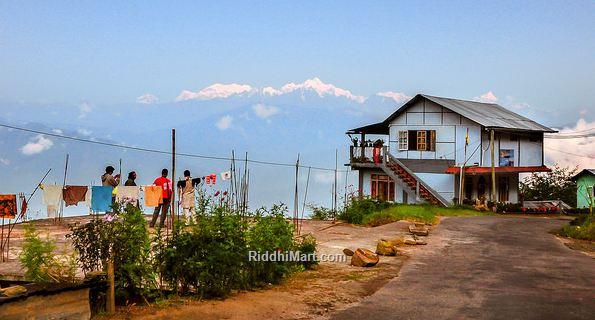 You can take a short tour to Bhutia Monastery towards Kalimpong from Ramdhura (just 1 km away). Also visit Cinchona plantation, Cinchona repository and beautiful British Jalsha Bungalow which was built on 1930. Take short guided trek to and Hanuman Tok viewpoint and Mahadev Dham temple through surrounded pine forest.
Ramdhura Homestay
We offers best homely homestay services in Ramdhura, safe and secure stay with the Bhutia family in cozy and comfortable room with western styled attached bath. Our hygienic kitchen serves tasty foods including breakfast, lunch and dinner. You also can cook for yourself because we have self-cooking facility. Bon fire & Barbeque can be arranged on request basis with extra charge.
Tariff starting Rs.800 to Rs.950 onwards per head per day with food, including breakfast, lunch and dinner.
3. Sitong
Sitong is a beautiful Lepcha village in Darjeeling district of West Bengal, near Kurseong located at 4000 ft. above sea level. This picturesque Sitong village also called as 'Orange Village' due to high volume of orange cultivation, almost each and every house in this village has orange orchards. River Riyang and waterfall (Jhora), lush green mountain steps and orange gardens will welcome you when you are entering Sitong village.
There is a nice church on hill-top of this village surrounded by very nice atmosphere. Take a short trip to Sitong View Point on your foot, the village is too tiny, you can roam entire village by walking. A magnificent view of orange orchards and Sitong village is visible from view point, a nice church located just beside the view point. Sitong is also a bird watching destination, bird lovers will love this village and numbers of rare Himalayan birds are visible in Sitong.
Sitong Homestay
Chhylom Kyomg Homestay: A Sitong Homestay provides double bedded rooms in a well decorated along with western styles toilets surrounded by orange orchards. Meaning of the homestay name in local Lepcha language is 'Orange Gardens'. Tariff starts from Rs.1250/ per person per day including accommodation and food (Bed Tea, Breakfast, Lunch and Dinner).
Yaksaa Resort provides rooms with attached bath along with hot water facility, tariff starts from Rs.1150 per head per night with stay and food (Breakfast, Lunch and dinner).
Sitong church is providing three storied guesthouse for travelers, they have nine double bedded rooms with all modern facilities along with attached bath, delicious veggie and non- veggie food served.
See Also Top 3 Offbeat Destinations Near Darjeeling
Tags:
Best Village Destinations and Homestay Near Darjeeling
---