Top 3 Offbeat Destinations in Darjeeling You Must Visit
Nov 17 2016
Today I will discuss about 3 best offbeat and less-known travel destination around Darjeeling. You will find peace of mind and bustle and hassle free life from your city life with the charm of Darjeeling.
Kurseong
Kurseong located only 47 kms away from Siliguri and situated on 4800 ft above sea level. It's a small amazing hill station, very near of charming Darjeeling in Darjeeling district of West Bengal. Kurseong can be a good option for Puja vacation, you can spend few days at Kurseong during Durga puja. The name Kurseong derived from local Lepcha language, which is 'Kharsang', meaning 'Land of the White Orchids'.
In my opinion, best attraction of Kurseong is fog, so many form of fog can be seen here. Kurseong is on the way to Darjeeling from Siliguri, maximum number of people thinks Kurseong as halt destination, but I will recommend staying here to feel and explore misty unexplored Kurseong.

Kurseong is a very small town, total area only 5 sq. kms, number of cool places are scattered around the town. Railway station is one of the main attractions of the town, this is a really nice place to spend time. Also take a visit to historical railway museum, which is within the station campus.
Take a small walk through Kurseong railway station to 'Eagle's Craig view point', from here you can see charming view of whole Kurseong town. Famous Makaibari Tea Estate and tea processing unit just beside main Kurseong town, taste a cup tea here.
Also you can take sightseeing tour to Netaji house, rain forest near Dow Hill School, St. Pauls Church, Choiling Monastery and Monteviot gompa. Read More..
Lepchajagat
Lepchajagat a tiny Lepcha village in Darjeeling district of WestBengal, distance from Darjeeling town is 14 K.M. Now at a day's Darjeeling is overcrowded with hotels, cars and so many tourists from all over the globe. Nature lover tourists are looking for a nice, peaceful and calm destination near Darjeeling, and Lepchajag is ideal for them. Also Lepchajagat can be your weekend destination, spend one or todays in Lepchajagat, it will be your life time memory.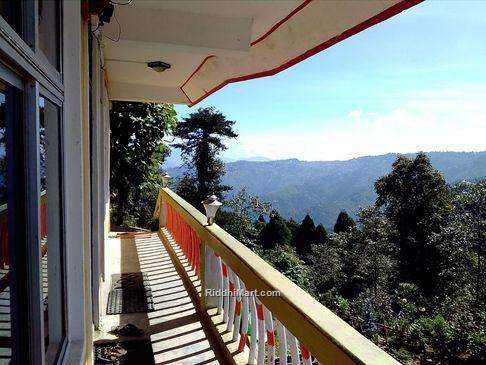 Lush green Dhupi forest gone through mountain steps, another side covered with Silver far forest and rhododendron. Comfortable and pleasant weather stays here all around year. Nearby areas can be visited on foot, take a short walk to beautiful pine forest surrounded by Dhupi forest. Jorepokhri can be visited from Lepchajagat within a halh day trip. The main and deluxe accommodation is West Bengal government's rest house of forest department. Sunrise seen from rooftop of Forest Development's cottage will mind-blowing and memorizing for your life time. Read More..
Mirik
Mirik is a picturesque travel destination, located in Darjeeling district of West Bengal at Indo-Nepal border. Mirik means 'a place burnt by fire' in Lepcha language. Today I will discuss about few attractive homestay located in and around Mirik.
Mirik is famous for its Mirik Lake, tea gardens, orange orchards and surrounded green mountain slopes. You can enjoy boating in Mirik Lake. The road goes to Mirik from Darjeeling through tea gardens. Go to uphill to the lake to enjoy memorizing sun rise and sun set. Generally people go to Mirik for sight seen or package tour from Darjeeling, but I will suggest staying at Mirik at least 2 nights to feel the charm of Mirik. Read More..
Tags:
village homestay in darjeeling, best homestay in darjeeling, darjeeling chez lhabitant
---