Are you planning for a trip to Nainital or any Kumaon region? Looking for trains to Kathgodam? Your ticket not confirmed or not getting any tickets due to peak season? Then you are in right place, go through this bellow write-up and you will get full information about trains to Kathgodam with timing, route and ticket fare for different classes. Also you will find full details of alternative ways and railway routes to Kathgodam from Kolkata and Delhi.
Kathgodam is gateway to Kumaon region and an important railway station in northern India, station code of Kathgodam is KGM. Kathgodam plays a greater role in tourism sector for Kumaon Himalayan region like Nainital, Mukteshwar, Ranikhet, Kausani, Binsar, Naukuchiyatal and Almora. This is the last railway station on this route, after Kathgodam road transport only available to above mentioned famous tourist destinations from all over India. See bellows the entire major and directs trains are listed…
13019/Bagh Express
Bagh Express is most important train to Kathgodam from Howrah (HWH), and running on daily basis, departure time is 9.45 P.M and arrived Kathgodam on third day morning at 9.30 A.M. It covers almost 1520 kms and takes around 36 hrs, average speed is 45 kms per hrs. It crosses few eastern and northern states and few major Indian cities including Burdwan (BWN), Asansol (ASN), Muzaffarpur (MFP), Gorakhpur (GKP), Lucknow (LJN) and Bareilly pur (BE). Fare starts from Rs.595 for sleeper class, Rs.1600 for AC three-tier and Rs.2340 for AC two-tier.
12353/Howrah - Lal Kuan Weekly SF Express leaves Howrah at morning 8.15 A.M on every Friday and reaches Lal Kuan (LKU) Junction on next day morning around 8.40 A.M. Lal Kuan located at 26 kms away from Kathgodam, taxis and cars are available to any Kumaon destination. The train covers 1347 kms and takes around 25 hrs with 14 intermediate halts. The train passes through number of major railway station Gaya (GAYA), Mughal Sarai (MGS), Varanasi (BSB), Lucknow Charbagh (LKO) and Rampur (RMU). Fare starts from Rs.580 for sleeper class, Rs.1530 for AC three-tier and Rs.2215 for AC two-tier.
05008/Howrah - Ramnagar Special leaves Howrah every Sunday at 8.35 A.M and reaches Lal Kuan (LKU) at next day afternoon around 2.30 P.M. Lal Kuan located at 20 kms away from Haldwani (HDW) and Kathgodam at 26 kms away. It passes through Bihar, Jharkhand, Uttar Pradesh etc Indian states, fare starts from Rs.750 for sleeper class, Rs.1930 for AC three-tier and Rs.2710 for AC two-tier.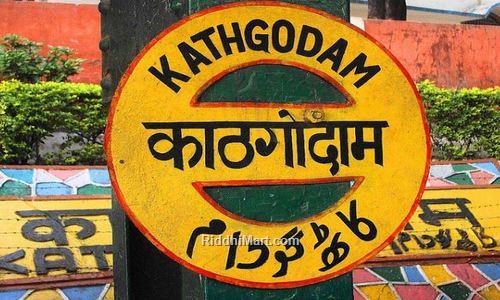 Two good trains are also available from Delhi to Kathgodam, if above mentioned train are full or getting long waiting list then you may break your journey at Delhi.
15035/Uttarakhand Sampark Kranti Express starts everyday form Old Delhi Junction (DLI) at 4.00 P.M and reaches Kathgodam at 10.40 P.M. it covers total 277 kms within 7 hrs and passes through Ghaziabad (GZB), Moradabad (MB) and Rampur junction (RMU). Fare starts from Rs.110 for second sitting and Rs.410 for AC chair car.
15013/Ranikhet Express leaves everyday at 9.10 P.M from Old Delhi railway station and reaches Kathgodam next day morning at 5.05 A.M. fare starts from Rs.110 for second sitting, Rs.190 for sleeper, Rs.490 for AC three-tier and Rs.695 for AC two-tier.
Kumaon tour also can be made from Lucknow, train available to Haldwani from Aishbah (only 2 km away from Lucknow)
See Also: Places to visit in Nainital
howrah to nainital train list; howrah kathgodam bagh express time table; kathgodam express from delhi