5 Best Offbeat Places in Himachal Pradesh You Must Visit
Oct 8 2016
Keylong
Keylong – small and beautiful town and headquarter of Lahul district in Indian state of Himachal Pradesh. Distance from Manali 115 K.M through Rohtang-Pass, and distance from Kaza is 187 K.M, situated on 3,300 meter above sea level. Lahul region famous for rough and cool desert, Keylong seems like an oasis into desert surrounded by willow and poplar trees.
Amazing view of 'Lady of Keylong' is visible from town. Take a short trip to Khardang Gompa (11,300 ft. above sea level), distance only 6 K.M from town across the Bhaga River. Another attraction is Shashur Gompa Monastery situated on 3 K.M away from Keylong town surrounded by far trees, this was founded in 17th century. Again go another 3 K.M forward to Tayul villge and 6 K.M from Keylong. Tayul Gompa or Tayul monastery located in this village, a giant statue of Guru Padmasamvaba located here.
Now time to go outside of town, visit Jispa and Darcha village, distance only 20 kms north from Keylong to Jispa through Leh-Manali highway along with Bhaga River. Visit Jispa helipad, Jispa monastery, and folk museum at Jispa, drive another 7 kms north for Darcha. Read More..
Kalpa
A hidden paradise and apple bowl in Indian state of Himachal Pradesh. In next few bit of text you will get how to reach Kalpa, what to see around along with accommodation available in Kalpa. Kalpa – dream land of Kinnaur, located at Kinnaur-Kailsh mountain range, at 2700 meter above sea level. You can enjoy huge snowfall in winter season. Previous name of Kalpa was 'Chini', and Kalpa was headquarter of Kinnaur district, now this is replaced by Reckong Peo, which is located just 10 kms away from Kalpa. Read More..
Sangla
Sangla is a city in Indian state of Himachal Pradesh, in Baspa valley. If you are looking for a mind inebriate break from your busy and boring city life then come to Sangla and live couple days of your life. So many apple orchards are waiting for you across the mountain; local villagers are farming by step of the hill, the scenery like to see. Traditional Kinnauri style houses are so fantastic on down to slope of the hills.
One the best valley of Himachal Pradesh is Sangla, situated on 8700 ft. above sea level, Beas River flowing over this heaven valley. The distance from Shimla (The capital city) is 240 K.M.
Take a short trek (around 2 K.M.) on by mountain trail and reach to ancient Kamru Fort, one of the oldest forts of Himachal. Those who are traveling with car Kamru Fort is worth little bit of effort to find it out. The temple of Kamakhya Devi and a small museum are here, into this tower shaped fort.
One the way to Kamru Fort you can find Badrinath Temple and a Buddhist temple or small monastery. Go to Berinag temple near Sangla bus stand on your foot, if you are staying near the stand. The wooden craft design of this temple is mind blowing and we will love this definitely. Read More..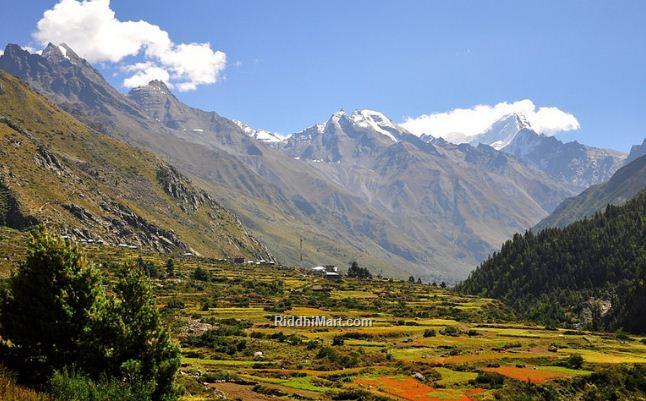 Nako
Nako is a small village and famous adventure travel destination around Nako Lake, surrounded by willow and poplar tree in Indian state of Himachal Pradesh on Indo-Tibetan border. Nako village situated on 9,500 ft. above sea level at the end of Kinnaur and distance from Kalpa is 110 K.M and 115 K.M from Sangla. Natural beauty of Nako is fabulous. Nako with Lahul and Spiti can be visited after Kinnaur tour from Shimla. Water shadow of snowcapped peaks in Nako Lake is a magical and memorizing scene for your lifetime. Nako is last point of Kinnaur and gateway to Lahul and Spiti region. Nako is a restricted destination and an inner-line permit needed for foreign travellers. Eucalyptus trees are used to build roof of mud made houses, an unique experice to see this roof.
Himalaya in Kinnaur region is green wrapped and you can find rough nature as you go to Spiti and Lahul valley. The nature is rough but the destination of unmixed beauty. You can visit Nako monastery in a day trip, stucco statue or idol of guru Padmasambhava and mural paintings are remarkable. Footprint of Guru (Saint) Padmasambhava in Nako monastery is very holy and point of attraction. The Nako Lake is another attraction of this village, this is an oval shaped lake and surrounded by snowcapped mountains.
Nako is biggest village of Kinnaur district, for your information: there is no urbanization in this district. Eco-Tourism is the only source of income for locals, summer season (Jun – Sept) is used to cultivation. The Nako is one the picturesque village of Kinnaur region, also declared as heritage village. Two major trekking route starts from this village one is 'Reo Purguil peak' trek and Tashigang trek. Read More..
Tabo
Tabo is a typical Himalayan village on Rekong Peo and Kaza highway in Lahaul-Spiti region of Indian state of Himachal Pradesh around high mountains. The small village Tabo located at bank of river Spiti and situated on 10,000 ft. above sea level. Distance from Nako to Tabo is 64 K.M through Sumdo. At Sumdo, now you are in Spiti valley. The entire route to Tabo is natural sculpture, carious stones made an amazing landscape. The green valley will drastically disappear from the landscape once you are in Spiti valley from Kinnaur.
Tabo is famous for its ancient monastery, this monastery is awarded with World Heritage site by UNESCO. Tabo Monastery also known as "Himalayan Ajanta " due to number of collection of fresco, painted on wall. These fresco was painted by Kashmiri artists by using herbal colors, you can find "Jataka Tales" is painted throughout the wall.
Take a tour or sightseeing to Dhankar Gompa and Dhankar fort, on the way to Kaza, situated on 12,700 ft. above sea level. The Pin valley can be seen from rooftop of Dhankar monastery. Read More..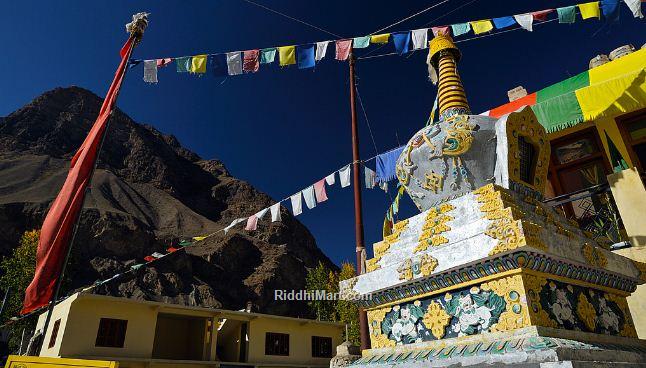 Tags:
Nako tour, Sangla Tour, Nako Tabo, Himachal Pradesh off-beat travel, Kalpa Tour
---