Top 5 Offbeat Destinations and Homestays around Kalimpong
Mar 9 2019
Kalimpong one of the best tourism destination in North Bengal around travelers. The beautiful Himalayan town now became a district along with all city facilities. If you are looking for cool & calm atmosphere then check below listed best 5 offbeat destinations around Kalimpong. The town located just 2.5 to 3 hrs. distance from Siliguri/NJP, experience number of tourist throughout the year for its climate and natural beauties.
Daragaon is a beautiful and tranquil village near Kalimpong, located just 14 away from Kalimpong city. Dara Gaon also known as 'Upper Icchey' within local population. It is one of the best eco-tourism destinations in Eastern Himalayan region. A superb view of Mt. Kanchenjunga can be seen from Dara Gaon, few people also call This village as 'Balcony of Kanchenjunga'.
The entire village is surrounded by lush green forest and various flowers throughout the year. It will take hardly 30 mins. to reach Daragaon from Kalimpong. Take a small walk through the village, there are some beautiful bungalow pattern private houses and homestays, many unknown flowers and trees, lush greenery in a calm and quiet atmosphere which will fascinate you.
Kaffer Gaon or Kafer village is well known as Loleygaon (located about 5 K.M downhill), which is a forest range located around 45 K.M from Kalimpong. It is a very suitable place where you can enjoy holidays, relax mind and body in a cool and calm atmosphere with your family. The Kaffer village is surrounded by lush green forest and thick jungle of other different varieties of plants, trees,herbs,etc.
Kafer village offers fabulous view of sunrise in the eastern horizon of Bhutan and plains of Dooars and the panoramic view of full range of Kanchenjunga and its sister peaks covered with saffron colored sun rays and a beautiful view of Kalimpong town. The sunset also will be a glorious moment forever which can be seen from this village.
Charkhole or Charkhol is a small village near Kalimpong, just heaven on the earth. Charkhole situated on 5,500 ft. above sea level and distance from Lolegaon is just 15 K.M. and just 40 K.M. from Lava (Labha). This Lepcha village is surrounded by dense forest of Pine, Sal, Oak, cypress tree and snowcapped peaks of Mt. Kanchenjunga. A splendor view of Mt. Kanchenjunga is available from this tiny village, although Mt. Everest is also visible on Clear and cloudless day. Charkhole is paradise for bird lovers and butterfly lovers, different types of birds like blue fronted redstart, Ashy Prinia, green-backed tit Indian robin etc are common here for throughout the year. The hill mynas are roams around Charkhole in the month of August to end of September.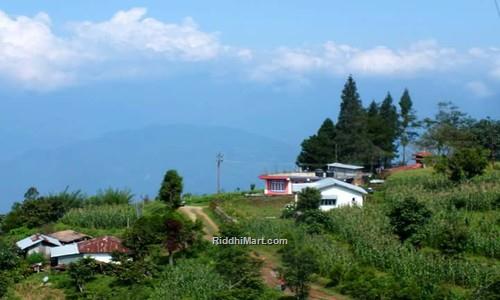 You can go to Jhandi dara view point, very near of Charkhole to enjoy magical sunrise and sunset from the view point. Mt. Kanchenjunga behind Kalimpong hill is on a side of this village and Siliguri town and extensive plain of Bengal is on another side. The sparkling lights of Siliguri main town are visible at night from village, looks like stars. Take a tour of natural small hilly hamlets like Lolegaon, Chukhim, and Samtahar etc. around Charkhole.
Pabong (also known as Pabung near Charkhole) is an ideal destination for enjoying true rural life and pollution free ecological hotspot in Kalimpong district near Darjeeling. It is one of the best villages in Imposing Eco-tourism Circuit, which offers excellent view of Mt. Kanchenjunga. This is also birding paradise for bird lovers, number of birds can be seen in mountain forest, from just beyond the village. Few are listed here like Minivet, Sunbird, Rollers, swallow, thrush, warbler etc.
Your tour will memorable for very warm local people, warmer affection. their hospitality and lush green tea gardens. You can collect organic agricultural products, pure honey, handicrafts made of Bamboo, organic farming of Oranges, Large Cardamoms, Broomsticks etc.
Pedong is a popular tourist destination in North Bengal near Kalimpong. This is a place with a very beautiful scenery and blend of culture, history and nature wherein a traveler can have a true genuine experience. It is located at 20 kms away from Kalimpong town on about 4000 ft. above sea level. Pedong also offers remarkable panoramic view of mighty Kanchenjunga and nearby Himalayan ranges. It is situated on historical Silk-Route, that was connected India with Tibet through Jelepla Pass. Number of popular destinations like Kalimpong, Loley Gaon, Lava, Rishop, Aritar are easily accessible from Pedong, average travel time is 1 hrs from Pedong.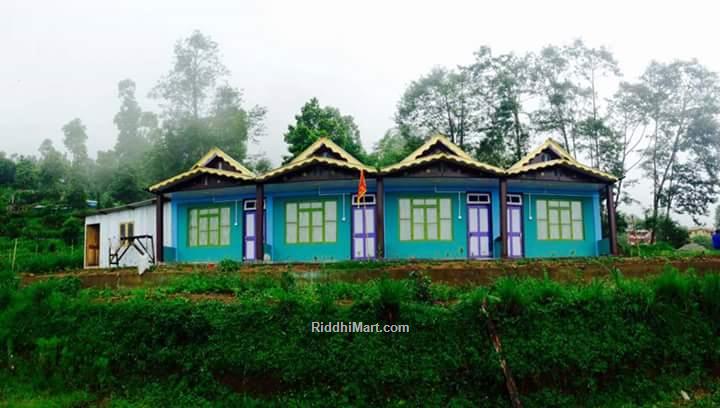 You can take a day trip to Damsang Gadi (The Damsang fort) – is only fort in entire Darjeeling district. The historical fort was built in 1690 AD by the Lepcha King. Your next stop is Cross Hill - It is a perfect sunset point, located at such a point from where the view of the mountains is magnificent. From here one can get a glimpse of Tibet or Chinese border. Next visit Sangchen Dorjee Monastery, which was built around the early 1700 AD. Chyam Dance or the Buddhist Mask dance is also held here annually, it attracts number of foreign tourists.
Tags:
Homestays around Kalimpong; Offbeat Destinations near Kalimpong; Kalimpong Offbeat Tour
---