Shillong is the capital city of Indian state of Meghalaya as well as beautiful hill station and one of the most preferred destinations in North-East India. Shillong was capital city of Indian state of Assam, after splitting a new state Meghalaya (abode of Clouds) was created and Shillong became capital city of new state. In British period they tried to find out their country within Shillong, the city also known as 'Scotland of East'. Now days you also can find signs and memories of old British era. The city is located at 4850 ft. above sea level and made by Britishers.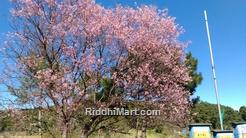 Police Bazar area is heart of the city, also locally known as PB. number of hotels are located here also you can find markets, state tourism bus terminus, Meghalaya state transportation's office, taxi stand, counter of Meghalaya tourism and Meghalaya helicopter service booking office. Number of tourist places are there, few are natural and few are manmade, for breathtaking views, great scenic beauty with rivers, waterfalls, emerald-green lakes, panoramic view of hilltops, festivals. Best tourist places are given bellow..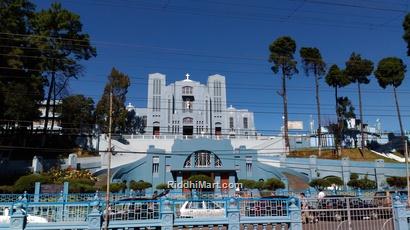 Catholic Cathedral is one of the biggest church of North East India as well as in India. The Roman Catholic Church is located in heart of the city (in the Laitumkhrah area view in Map), locally the church known as Cathedral of Mary Help of Christians. The main hall of this cathedral is fascinating and calm, number of wall paintings and wall papers is describing the life story of god Jesus. The Laitumkhrah Cathedral (Catholic Cathedral) is must visit location in Shillong.
Entry: Free
Parking: Free
Elephant Falls is most beautiful and one of the biggest waterfalls in Shillong as well as Meghalaya (show on map). The name was given by British for a big rock, which resembled elephant. July to August is best time to visit the falls, however you can visit this any time. This is collection of few waterfalls, water dropping from top to bottom in few streams. You need to go down by number of slopes to see the scenic beauty of the fall.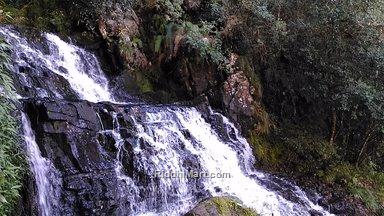 Entry: Rs.20 per adult, camera charges Rs.50.
Shillong Peak (show on Map) is located very near of Elephant falls, the height of the peak is 6500 ft. There is a view point and a watch tower, entire Shillong city and surrounding mountain forest can be seen in clear day. The view of the entire city from watch tower is breathtaking and amazing. Oranges and handcraft products are selling from few outlets at Shillong Peak, also you can take photograph with traditional Khasi dress from here.
Entry: Rs.10 per adult, Rs.50 for camera, you need a valid Indian identity card, the place under Indian Air Force and foreigners not allowed.
Eastern Air Command Museum located at upper Shillong near Elephant falls, an amazing collection of Indian air force. The remain open daily from 9.00 A.M to 5.00 P.M, This is where you can see some of our real heroes and read about their bravery and dedication at the same time, see things like Ejection Seat, and canons, and guided missiles etc. Entry not allowed for foreigners.
Wards Lake is the most favorite place for local people as well as for tourists, surrounded by flower garden and plants. The artificial lake was dug by prisoner and initiated by Sir William Ward. Boating facility is available here, all paddle boats are floating on the lake, entire lake is surrounded by nice walk able footpath. Most attractive part of the lake is Melody Fountain - Water dances to the rhythm of music in the lake. It has a wooden bridge at the middle you can feed Catfish from the bridge. The Wards lake is located just few meter way from Police bazar, you can visit by walking from here. Note: the park is closed on every Tuesday, so plan accordingly.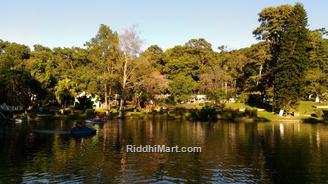 Entry: Rs.10 per adult and Rs.5 for child (above 12 yrs).
Lady Hydari Park has variety of local flowers, plants and orchids, a small zoo within the park. There are varieties items for children like swings, sea-saws, slips for them. The park itself is a famous picnic spot for local. This park is named after the Lady Hydari, the first lady of the state, wife of the Governor of Assam. Best time to visit the park is winter for blossoming flowers and orchids.
Note: Lady Hydari Park remains closed on every Monday.
Don Bosco Museum or Don Bosco Centre on Indigenous Cultures is walking dictionary for entire north east India. The museum has amazing collection of tribal attires, weapons, ornamentation, accoutrements and rare photographs. This is also the largest cultural museum in the whole Asia. Another best attraction of the museum is Skywalk. The Skywalk provides best view of the 'Queen City Shillong'.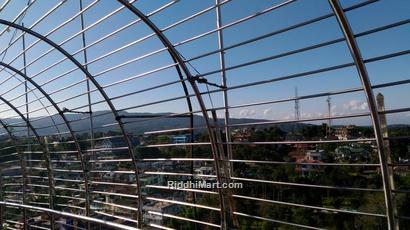 Entry: Rs.100 per adult and camera Rs.100 (smart phones also treats as camera), remains open every day from 9.00 A.M to 5.30 P.M except national holidays and Sundays.
Umiam Lake is an artificial lake in Indian state of Meghalaya near Shillong, locally known as Barapani. The lake will be in top among all artificial lakes in India, located just 16 kms away from capital city Shillong. Umiam Lake is created by damming on 'Umiam' river, this is also a water reservoir and spreads across around 200 sq. kms. Boating facility also available here, view of the nearby is superb and breathtaking.
Golf Course is another best tourist attraction in Shillong, a lush green 18-holed Golf Course. This is one of the oldest and most beautiful golf courses in India.
There are lots of falls around the city. These forms number water falls in rainy season, few of notable waterfalls are Bishop Falls, Sweet Falls, Spread Eagle Falls etc.
Shillong sightseeing; Shillong sightseeing taxi fare; Shillong tourism guide; Shillong, Meghayala