Sikkim is one of the most visited tourist destinations in North-East India as well as in India. This tiny state has lot of to offer like snow-capped mountain peaks, waterfalls, rhododendrons, flowing stems, monasteries etc. Sikkim is also hub of village tourism and Eco-Tourism, from this short write-up you will get best five offbeat destinations and top five homestay in Sikkim. These homestays offers cozy and secure accommodation along with all basic facilities. Let's explore one by one homestay details including (tariff, food, views & hospitality).
1. Namthang is a tiny hilly town in the South Sikkim district of the Indian state of Sikkim. It is located around 56 kms. from capital city Gangtok and only 45 kms. away from entry point of Sikkim Rangpo. Namthang lays on Gangtok – Namchi road. The name Namthang has derived from Nam – means Sun and Thang – means place.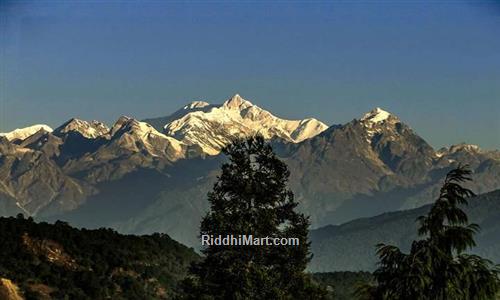 Homestay in Namthang
Homestay is only ideal accommodation in Namthang, come and experience the local Sikimese hospitality. Our associate homestay provides relaxing and comfortable accommodation in Namthang. Host Mr. Lepcha is noble person and has knowledge about local area and nearby. There are few double bedded and triple bedded rooms with attached western toilet and geyser. All the rooms are cozy and spacious also provides breathtaking views of nearby from window. Enjoy local Lepcha cuisine and nearby sightseeing tour to Namchi, Samdruptse (Chardham). Homestay full board (Breakfast – Dinner) tariff stars from Rs.900 per head per day.
2. Sadam is a rural hamlet in South Sikkim district of Indian state of Sikkim. Sadam village located at 12,200 ft. above sea level and about 18 kms away from district head quarter Namchi. 'Tarey Bhir' is one of the most attractive points of attraction for people who adore natural thrill in Sadam.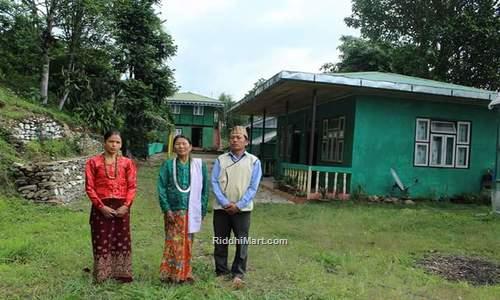 Homestay in Sadam
Our associate homestay is situated in the beautiful place, blessed by nature. We provides cozy, comfortable rooms and mouth-watering organic dishes along with cultural programs, sightseeing, trekking, bird watching, paragliding and many more.
3. Sribadam is a small picturesque Himalayan village located in West Sikkim surrounded by nature and greenery. The Sribadam village is also locally known as Sreebadam, situated just around 85 kms. away from capital city Gangtok and 129 kms from Siliguri. There are lakes, monastery, waterfall, stream for fishing. One can trek to Versey rhododendron sanctuary. The village is paradise for bird watching as well as butterflies can be seen here.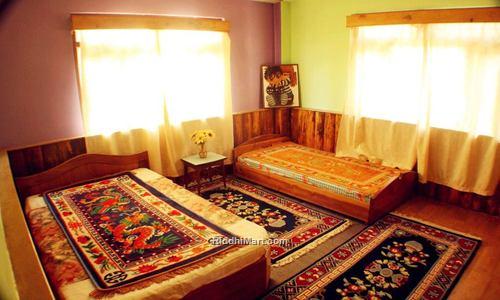 Homestay in Sribadam
Village homestay is only Accommodation at Sribadam, our associate homestay provides comfortable stay with all basic needs. They have number of single, double and triple bedded rooms with attached bath and hot water facility. All the food provides at homestay all are organic. Owner Mr. Bhutia is nice person with well knowledge of local area, he provides guided treks. Tariff starts from Rs.1050 per head per day/full board (breakfast, lunch dinner).
4. Tashiding situated in West Sikkim, India surrounded by valley, distance from Pelling (a well-known tourist destination in West Sikkim) is 40 K.M and distance from Yuksam (historical place of Sikkim) is 16 K.M. The main attraction of this village is Tashiding Monastery, surrounded by beautiful orange and cinnamon (darchini) garden; magnificent view of snowcapped Mt. Kanchenjunga is visible from Monastery campus.
Accommodation in Tashiding
Homestays are best accommodation in Tashiding, few locals are started homestay, foods are good and facilities are basic.
Trekker's hut also available with attached toilets, electricity, lodging and fooding, cost would be around Rs.1000/ to Rs.1200/ per head per day.
5. Bariakhop or Buriakhop is a small scenic village in West District of Indian state of Sikkim. It is located at 5530 ft. above sea level and about 64 KM towards south from district head quarters Geyzing. Visit this place to relive the days when playing meant skipping ropes and cricket bats instead of video games and mobile phone. Stay here for at least couple of days to take in the local flavor, shop at the local market that is set up every Wednesday, take long walks and leave your watch and phones at home. There are no hotels but some people have given their houses on rent as homestay.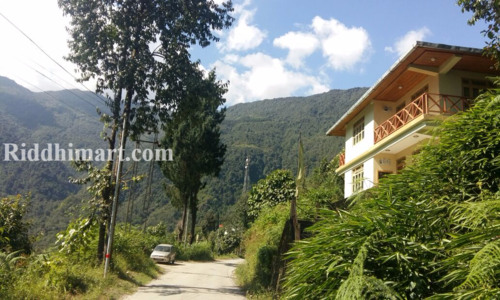 Homestay in Bariakhop
Bariakhop homestay is best and only accommodation in this village, Mr. Gurung has few cozy and hygienic rooms with great view of the surrounding. For tariff and booking contact us or simply send us Enquiry. On first day take a aimless village work and roam as much you can, next day you may go to Gyathan waterfalls, Ring road, Sai Mandir (Temple), Anden monastery etc. on 3rd day go for mountains and rhododendron flowers view from Varsey Rhododendron Sanctuary area.
:: Contact us or send us enquiry for homestay booking.
Village Homestay; Sikkim Village Homestay; Village Homestay cost; Village Homestay reviews