First of all I am wishing you all merry Christmas and happy New Year 2017. We are now standing at end of 2016. In this year we have made number of planning for travel but anyhow missed it, due to office work, personal reason, child's exam etc. Finally the plan dropped, but in this year you can fulfill your desire. Now I am making a list of best places to visit in 2017. You can get entire details for the place like how to go, accommodation options, best season etc.
Daragaon
Daragaon is a virgin village near Kalimpong in Darjeeling district, located just 10 away from Kalimpong city. Dara Gaon is also known as 'Upper Icchey' within local population. It is one of the best eco-tourism destinations in Eastern Himalayan region. A superb view of Mt. Kanchenjunga can be seen from Gara Gaon, few people also call This village as 'Balcony of Kanchenjunga'.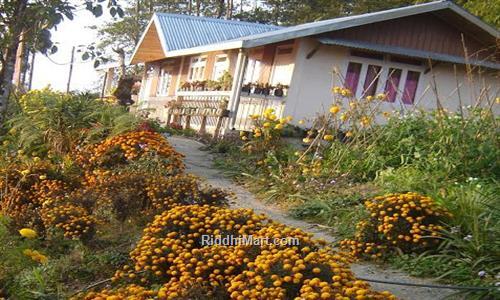 The entire village is surrounded by lush green forest and various flowers throughout the year. It will take hardly 30 mins. to reach Daragaon from Kalimpong. Take a small walk through the village, there are some beautiful bungalow pattern private houses and homestays, many unknown flowers and trees, lush greeneries in a calm and quiet atmosphere which will fascinate you. More..
Dawaipani
Dawaipani is small Himalayan village in North Bengal under fascinating Darjeeling district. The village situated in opposite hill of Darjeeling town that is the famous for Tiger Hill. Dawaipani is located just 15 km away from Darjeeling town, nearest junction is Jorrbunglaw, just 7 km away from this beautiful destination. The place where one can take the breath on the lap of nature, village consists of only 135 – 150 houses. This village is a paradise for bird lovers, bird watching is one of the best activity in Dawaipani.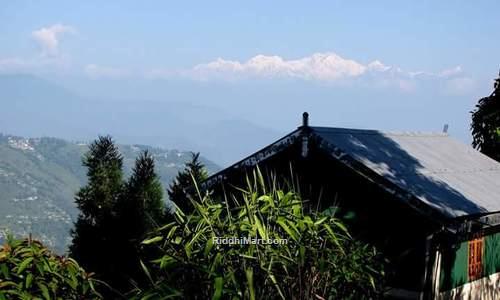 This tiny hamlet offers you a spectacular view of Mt. Kanchenjunga (Sleeping Buddha), and clear view of Namchi, West Sikkim (Chardham or Samdruptse), and hazy view of the Darjeeling town. Entire Darjeeling town looks like stars in galaxy at night.
Dawaipani meaning in local language is 'Medicated water', the name derived from local river (Khola) which passes through the village. This village is surrounded by few renowned tea estates like Glenburn Tea estate, Lamahatta Tea estate, Takdah Tea estate and lush green pine trees. More..
Jorpokhri
Jorpokhri is a small lake village on a hilltop in Darjeeling district near LepchaJagat. The place located about 23 kms. away from fascinating Darjeeling town. The name of this village derives from two-lakes, 'Jor' meaning is two and 'Pokhri' meaning is Lake. Jorpokhri offers a magnificent view of Mt. Kanchenjunga along with number of snowcapped ranges. This is very peaceful and romantic place, situated just above of congested and over crowed Sukhiapokhri.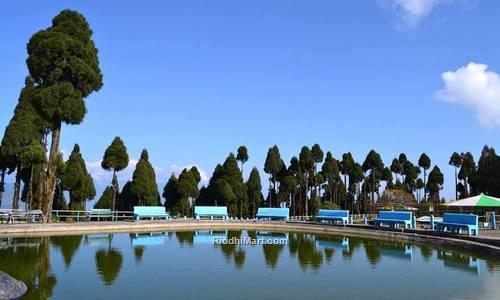 The road from Siliguri to Jorpokhri is so charming and great experience through deep green scenery and tea gardens. The last two kilometers go through dense forest to the top of the hill and suddenly you will see flat land. Two well decorated lakes are the main attraction of Jorpokhri, you can spend an entire day with lakes, mountains and silence. Take a small stroll to nearby Lord Shiva temple, the temple located at very nearby of the lake, also you can take a short trip to Pashupati Nath Market, Nepal border, Ghoom and Darjeeling. More..
Lamahatta
Lamahatta is a scenic village in North Bengal surrounded by clouds, fog, pine tree, dense dhupi trees and an offbeat destination from Kolkata. Lamahatta is located at 6500 ft above sea level and distance from Darjeeling is only 24 kms. This is one of the best eco-tourism destinations in Darjeeling and around. Meaning of this place is 'Monk's huts', Lama – Buddhists Monk and Hatta- huts.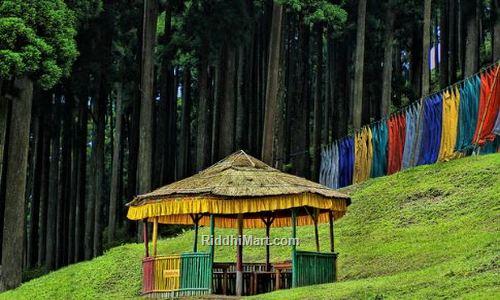 Take a tour to road side garden or eco-park, you need to buy tickets for entering the garden for Rs.10. The garden spread-across the other side of main road through mountain slopes. You can also take a nature trail trek to hill top small lake, a sacred lake for local villagers. Go to Peshoke view point to be witness confluence of rivers Rangeet and Teesta, locally known as 'Triveni', located just 8 kms away from Lamahatta. Take a short trip to nearby tea gardens. More..
Ramdhura
Ramdhura is a small village in between border of West Bengal and Sikkim, famous for its flowers and orchids. The colorful village located at around 5,500 ft. above sea level. Each of the villagers has flower nursery, they cultivate flowers and orchids for commercial purpose. Fascinating view of the Teesta River and valley is visible from Ramdhura village, also in a cloudless day Mt. Kanchenjunga can be seen from here. The village Ramdhura centrally located between few well known and picturesque tourist destinations like 'Echey forest' just located on uphill of this village. Echey Gaon located just 2 kms away from Ramdhura.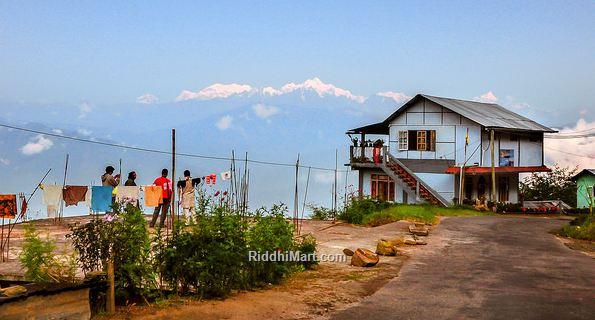 You can take a short tour to Bhutia Monastery towards Kalimpong from Ramdhura (just 1 km away). Also visit Cinchona plantation, Cinchona repository and beautiful British Jalsha Bungalow which was built on 1930. Take short guided trek to and Hanuman Tok viewpoint and Mahadev Dham temple through surrounded pine forest. More..
Best offbeat places; tours in West Bengal; North Bengal Homestays; offbeat tours; 2017 tours in west bengal;